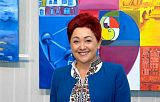 Oksana Okhapkina
Kyiv, Ukraine
In Gallery
More artworks by this artist
I love ballet. I know how hard it is, but how beautiful it is. The female body is beautiful, especially when it can overcome the law of attraction.
Leave a comment
You must register or login
You must be logged in to like or follow. Please register or login to continue.