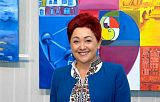 Oksana Okhapkina
Kyiv, Ukraine
In Gallery
More artworks by this artist
STYLE
Abstract, Contemporary Art
Certificate of authenticity
Yes
The triangle in Feng Shui theory is the embodiment of the power of the pyramids; it symbolizes the connection with the forces of the body, mind and spirit, as well as the unity of the mother, father and child, past, present and future. It is a symbol of the Holy Trinity. The triangle has protective properties. The picture is dominated by a golden color, which symbolizes the element of the sun and energy.
Leave a comment
You must register or login
You must be logged in to like or follow. Please register or login to continue.