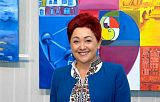 Oksana Okhapkina
Kyiv, Ukraine
In Gallery
More artworks by this artist
STYLE
Abstract, Contemporary Art
Certificate of authenticity
Yes
I write the abstract series "Information Flows", which will consist of 7 paintings. How much is now available to man, how quickly everything is changing, how rapidly artificial intelligence is developing. What's next? What should a man do? How does art affect the inner world? We need spiritual food! What is the soul, what is the mind? When the aspirations of the soul and mind coincide this is true happiness!
Leave a comment
You must register or login
You must be logged in to like or follow. Please register or login to continue.