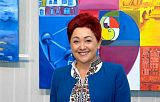 Oksana Okhapkina
Kyiv, Ukraine
In Gallery
More artworks by this artist
Certificate of authenticity
Yes
I have wrote the abstract series "Information flows", which consists of 7 paintings. How much is available to man now, how quickly things change, how quickly artificial intelligence develops. What's next? What should a man do? How does art affect the inner world? What is love? How does music affect a person? What is the soul, what is the mind? When the aspirations of the soul and mind coincide, this is true happiness! All these questions are asked by people, artists and I am not an exception. Flow # 7, acrylic on canvas, 60x100 cm, 2019 It is the last picture from the series "Information Streams" I wrote under the impression of the boy Artyom, from the orphanage of the village of Tsibli. Artyom, 13 years old. The painting impressed me, as the basis he took the Spanish street artist El Pez, but he painted it in his own way, the name of the painting is "Mother Above All"! Mother nature, mother parent, mother the beginning of life ... Mother, mom, mom, ma in all languages ??almost sounds the same. I immediately formed an image and colors, red, blue, yellow. When the picture was painted, I realized that intuitively I took the colors that are used in the icons. This confirmed my identification, everything that is inherent in us at the genetic level by our ancestors.
Leave a comment
You must register or login
You must be logged in to like or follow. Please register or login to continue.