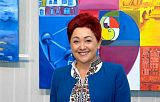 Oksana Okhapkina
Kyiv, Ukraine
In Gallery
More artworks by this artist
STYLE
Abstract, Contemporary Art
Certificate of authenticity
Yes
The space, the universal eye, the 5th element, the view through space and time, the orderly system, thoughts on this theme gave birth to this picture. The space is higher than man, you have to obey him and become a silent observer of the beauty of the World. The picture is dominated by brown, orange and blue colors. Feel this picture, it will give you confidence that you, too, are part of the World, the best part of it. The picture will allow you to enjoy the wonderful sensation of the space, both in the office and in a modern apartment.
Leave a comment
You must register or login
You must be logged in to like or follow. Please register or login to continue.