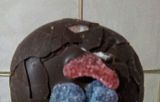 Odracir Ortsac
León, Mexico
More artworks by this artist
Certificate of authenticity
Yes
I made this painting while listening to the song: The cat that is sad and blue by brazilian singer Roberto Carlos. The painting is an allegory to the autodestrutive tendencies very present in modern life.
Leave a comment
You must register or login
You must be logged in to like or follow. Please register or login to continue.