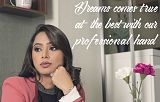 Eng. Nutan Indulkar Ghag
Muscat, Oman
More artworks by this artist
Certificate of authenticity
Yes
Muttra Cornish", Muscat, Oman yr-2012 With Dry Pastels, self learn technique by self learn artist from child hood, on handmade paper. A beautiful angled photograph inspired me to do this painting. This pretty - yet traditional Cornish is like necklace to the port Muttra.
Leave a comment
You must register or login
You must be logged in to like or follow. Please register or login to continue.