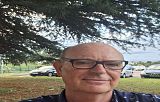 Jean-Michel FRAMERY
Créteil, France
More artworks by this artist
Certificate of authenticity
Yes
Un immense oiseau qui représente la liberté rase les murs d'un bâtiment dont les fenêtres sont dotées de barreaux. C'est une prison qui n'est pas comme les autres puisqu'elle est peinte aux couleurs de l'arc en ciel (joie). C'est une peinture acrylique sur toile qui symbolise les contrastes entre l'univers carcéral et la liberté exprimée à l'extérieur. J'ai été inspiré par une visite de prisons en région parisienne.
Leave a comment
You must register or login
You must be logged in to like or follow. Please register or login to continue.