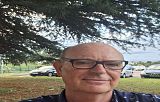 Jean-Michel FRAMERY
Créteil, France
More artworks by this artist
Certificate of authenticity
Yes
En écoutant les informations concernant le coronavirus au Mexique et connaissant ce pays pour y avoir travaillé, j'ai créé une toile avec un mixage d'acrylique et de d'huile pour retraduire les coutumes populaires de la calavera sous forme de vase avec un bouquet de fleurs qui ressemble à des représentations du coronavirus, le tout assemblé de feuillage et d'émojis masqués, ce qui donne une pointe d'humour, en clin d'œil au rapport plutôt joyeux des mexicains avec la mort.
Leave a comment
You must register or login
You must be logged in to like or follow. Please register or login to continue.