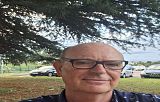 Jean-Michel FRAMERY
Créteil, France
More artworks by this artist
STYLE
Contemporary Art, Impressionism, Modern
Certificate of authenticity
No
Trois amis naturistes, bras dessus, bras dessous sont peints de dos. Ils regardent vers l'île. Le soleil bas son plein, ce qui confère des ombres sur les corps dénudés. C'est un hommage aux naturistes qui repoussent les tabous concernant la nudité. Cette toile est recouverte d'un vernis protecteur contre les UV.
Leave a comment
You must register or login
You must be logged in to like or follow. Please register or login to continue.