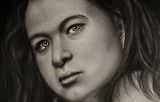 Nina (Nadine Pillet)
Orsonnens, Suisse
In Gallery
More artworks by this artist
STYLE
Hyperrealism, Photorealism, Realism
Poudre de carbone et de pastels sur papier Canson. Portrait d'une jeune femme aux yeux verts exprimant la folie dans le regard. Interprétation d'une photo de Daniel Thibault avec son aimable autorisation.
Leave a comment
You must register or login
You must be logged in to like or follow. Please register or login to continue.