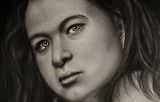 Nina (Nadine Pillet)
Orsonnens, Suisse
In Gallery
More artworks by this artist
STYLE
Hyperrealism, Realism, Surrealism
Poudre de carbone et de pastels sur papier Canson. Une femme et un homme séparé par un voile fluide et multicolore symbolisant la séparation par la mort physique. Elle est dans un corps incarné, lui n'étant plus incarné son corps est moins matériel, estompé mais dégageant de la lumière-énergie qui passe au travers du voile. Leurs mains se joignent sur le voile, les yeux dans les yeux.
Leave a comment
You must register or login
You must be logged in to like or follow. Please register or login to continue.