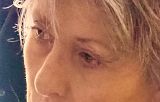 Nathalie Sitzia
Nantes, France
In Gallery
More artworks by this artist
Certificate of authenticity
Yes
J'ai souhaité représenter ce phénomène lumineux et furtif. Des petits corps circulant dans l'espace. J'ai utilisé pour appliquer la peinture acrylique des pinceaux et différentes tailles de dooting tools (petits poinçons).
Leave a comment
You must register or login
You must be logged in to like or follow. Please register or login to continue.