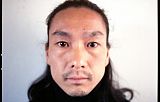 Morihiro Tsubokura
Osaka, Japan
More artworks by this artist
STYLE
Abstract, Conceptual
Because we could feel the affinity between a sky and the field of the ideas inside of us , we are deprived of our heart when looking up at the sky. The ideas generated inside of us is respective and have the infinite vastness. These works are the trial by the characteristic of photography that I would try to delineate the vastness of the constantly changing ideas inside of us by reversing the sky into on the photo works.
Leave a comment
You must register or login
You must be logged in to like or follow. Please register or login to continue.