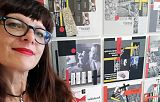 Mojca Senegacnik
Celje, Slovenia
More artworks by this artist
MEDIUM
Newspapers, Paper, Photo
Certificate of authenticity
Yes
Original collage. Paper and cadboard on kappa plate. Art piece from the series "Remains of the day", which includes daily made collages from cuts of paper, old book pages, photos, connected to a visual diary of the artist.
Leave a comment
You must register or login
You must be logged in to like or follow. Please register or login to continue.