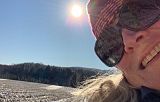 Mjlebel Artiste
Brébeuf, Canada
More artworks by this artist
Certificate of authenticity
Yes
Édition de 5. 4 exemplaires disponibles. Série TRAME. Œuvres évoquant les paysages laurentiens. À partir de photographies prises par l'artiste et traitées numériquement, l'image est gravée puis imprimée sous presse avec les techniques traditionnelles d'estampes.
Leave a comment
You must register or login
You must be logged in to like or follow. Please register or login to continue.