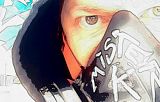 MISTER K (Lepolsk) MATUSZEWSKI
Saint-Laurent-de-la-Salanque, France
More artworks by this artist
Certificate of authenticity
Yes
Oeuvre originale sur toile Annee 2019 Calligraffiti abstraite ( post-graffiti ) 150 x 50 x 3cm Signé-daté-numeroté-contre-signé Œuvre disponible - envoi en direct depuis l'atelier de création de l'artiste.
Leave a comment
You must register or login
You must be logged in to like or follow. Please register or login to continue.