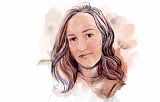 Melissa Wilcox
Saint-Alphonse-de-Granby, Canada
More artworks by this artist
STYLE
Contemporary Art, Fine Art, Realism
MEDIUM
Charcoal, Graphite, Ink
Mixed Medias Portrait of a woman on wood. This painting comes in black varnished frame. Colors: black, white, grey, brown (wood). Dessin/peinture, portrait d'une femme sur bois. Couleurs : black, white, gris, brun(bois). Cette pièce vient dans un cadre de bois noir vernis et lustré.
Leave a comment
You must register or login
You must be logged in to follow. Please register or login to continue.