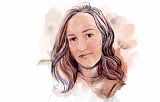 Melissa Wilcox
Saint-Alphonse-de-Granby, Canada
More artworks by this artist
STYLE
Abstract, Contemporary Art, Modern, Pop Art
Mixed Medias, collage sur toile profilée. Portrait d'une femme regardant au loin avec des touches typographiques, cartographie et de couleurs telles que noir, blanc, jaune, rouge, saumon et turquoise. Mixed Medias portrait of a woman looking at the horizon. Collages of maps, typography, and clippings. Colours : Black, White, Yellow, Aqua, Red, Pink.
Leave a comment
You must register or login
You must be logged in to follow. Please register or login to continue.