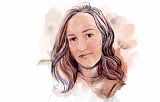 Melissa Wilcox
Saint-Alphonse-de-Granby, Canada
More artworks by this artist
STYLE
Abstract, Contemporary Art, Expressionism, Mixed Media, Modern
MEDIUM
Acrylic, Mixed media, Oil, Pastel
Abstract painting Mixed Medias on canvas. Colors : grey, white, black, pink, fluorescent, yellow, gold, aqua, turquoise, blue, beige, tan, brown. Peinture abstraite gestuelle Techniques Mixtes sur toile profilée Couleurs : blanc, noir, gris, rose pâle, Fluorescent, jaune, turquoise, aqua, or, doré, brun, tan.
Leave a comment
You must register or login
You must be logged in to follow. Please register or login to continue.