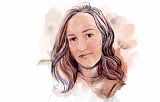 Melissa Wilcox
Saint-Alphonse-de-Granby, Canada
More artworks by this artist
STYLE
Abstract, Contemporary Art, Fine Art, Modern, Other styles
Mixed Medias Piece of a woman on Profile (1.5") Canvas. Colours : White, Black, grey, gold, beige, brown, pink, magenta. Techniques Mixtes sur toile. Portait d'une femme décortiquée. Collage et typographie. Couleurs : Noir, Blanc, gris, or, doré, beige, brun. rose et magenta.
Leave a comment
You must register or login
You must be logged in to follow. Please register or login to continue.