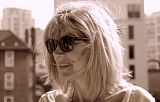 Mila Moroko
London, United Kingdom
More artworks by this artist
STYLE
Conceptual, Contemporary Art, Figurative, Realism
Certificate of authenticity
Yes
This is very emotional work that makes you think about our way in the life. Anything can happens with us and sometimes this brings us pain and disappointment but even if you feel like the only one in this desert and can't go ahead any more you always MUST go. This is the appeal of the Hope. This artwork has painted edges and ready to hang and no need to frame it.
Leave a comment
You must register or login
You must be logged in to like or follow. Please register or login to continue.