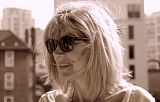 Mila Moroko
London, United Kingdom
More artworks by this artist
STYLE
Figurative, Impressionism, Realism
Certificate of authenticity
Yes
This is all about dreams and travelling to a warm sea with golden sand and sun and joyful hope that all this happiness around is endless. This artwork has painted edges and ready to hang.
Leave a comment
You must register or login
You must be logged in to like or follow. Please register or login to continue.