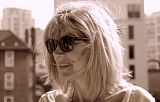 Mila Moroko
London, United Kingdom
More artworks by this artist
STYLE
Conceptual, Contemporary Art, Impressionism
Certificate of authenticity
Yes
That is my new try to touch Vincent's art and to feel his manner and style of painting. Sunflowers from his works might bloom under this sky or might look like stars and have their reflex in the sky like stars in deep sea. This stars fill my mind with ever new and increasing admiration and awake my imagination. This picture has painted edges which means no need to frame this artwork. Ready to hang.
Leave a comment
You must register or login
You must be logged in to like or follow. Please register or login to continue.