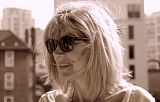 Mila Moroko
London, United Kingdom
More artworks by this artist
STYLE
Contemporary Art, Expressionism, Impressionism
Certificate of authenticity
Yes
My favourite poppies are welcome in this work as a blessed mix of joy, brightness and believe in the best future. All colours and shades of red could be find here and all together they sound as an anthem to love forever. Thick texture layers of this gestural work make it very expressive. This artwork has painted edges and ready to hang and no need to frame it.
Leave a comment
You must register or login
You must be logged in to like or follow. Please register or login to continue.