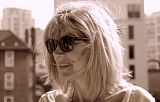 Mila Moroko
London, United Kingdom
More artworks by this artist
STYLE
Abstract, Contemporary Art, Expressionism, Futurism, Mixed Media, Modern
Certificate of authenticity
Yes
This is big size abstract oil painting on canvas. I used different textured brushstrokes in impasto technique and combined soft and smooth colour transitions and colour mixing with bright and contrast to make the work more expressive and fill it with greater depth and structure. Mixture of dark blue and bright red with golden colours make the work dramatic but quite positive and optimistic and will match to the contemporary interior. This work has painted edges, so no need to frame it.
Leave a comment
You must register or login
You must be logged in to like or follow. Please register or login to continue.