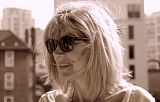 Mila Moroko
London, United Kingdom
More artworks by this artist
STYLE
Abstract, Contemporary Art, Figurative, Pop Art
Certificate of authenticity
Yes
This abstract XL size artwork perfect for your home or office. This is original and unique abstract oil painting on square canvas with deep edges. It's colours very bright and vibrant and the theme of the work is nice, positive and very tasty. Fruits that someone can see and eat everyday have funny and unusual look but still look attractive and make you look into the work and explore it. Note: This painting is not framed, but comes hang ready with the painted sides, so framing is unnecessary.
Leave a comment
You must register or login
You must be logged in to like or follow. Please register or login to continue.