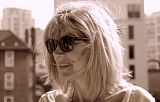 Mila Moroko
London, United Kingdom
More artworks by this artist
STYLE
Contemporary Art, Figurative, Impressionism, Realism
Certificate of authenticity
Yes
After each visit to Greece I am overloaded with emotions and feelings of grateful to someone above us for all this beauty of nature and generous gifts that your eyes can find wherever they have a look. This picture has painted edges which means no need to frame this artwork. Ready to hang.
Leave a comment
You must register or login
You must be logged in to like or follow. Please register or login to continue.