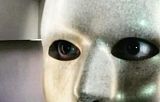 Miguel Alvarez
Bronx, United States
More artworks by this artist
STYLE
Abstract, Conceptual, Storybook
Certificate of authenticity
Yes
The sun in all its glory. This is a fun playful way to look at the sun. Its face is designed with charcoal accent and it is reminiscent of the classical iconic depictions of the sun with a face from long ago.
Leave a comment
You must register or login
You must be logged in to like or follow. Please register or login to continue.