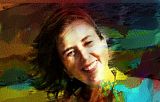 MiCheline Tremblay
Québec, Canada
More artworks by this artist
STYLE
Drawings & Painting, Mixed Media
Certificate of authenticity
Yes
Cette oeuvre figurative et contemporaine a été réalisé à partir d'une toile peinte à l'acrylique, d'une photo et d'une oeuvre numérique. C'est par ces trois mondes combiné qu'elle a pris naissance et au milieu de cet univers, les couleurs se sont imposés d'elles-même. Comme chacune des oeuvres que je crée, elle est le reflet de mon âme au moment où elle est réalisé.
Leave a comment
You must register or login
You must be logged in to like or follow. Please register or login to continue.