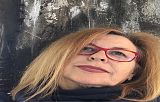 Michèle Castonguay
Ville de Québec, Canada
More artworks by this artist
Ce tableau inspiré par l'eau, me rappelle les fonds marin de l'océan. Vous pourriez aussi bien le placer à la verticale si le cœur vous en dit.
Leave a comment
You must register or login
You must be logged in to like or follow. Please register or login to continue.