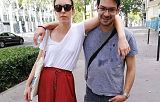 Michaël Zaccharie
Paris, France
More artworks by this artist
Le chat de Erwin Schrödinger et Venus la femme correspondant à l'absolue féminin. Je l'ai fait avec l'aide d'un ami il y a longtemps avant que je ne perde la main comme vous avez pu le voir. sur mon compte facebook En vente à 200 euros à marchander.
Leave a comment
You must register or login
You must be logged in to like or follow. Please register or login to continue.