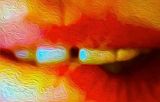 Maxine Page
Oaxaca, Mexico
More artworks by this artist
Certificate of authenticity
Yes
Absolutely fabulous, hand-painted, uber cool & funky Mandala style end table. Finished with a very high gloss varnish, each of the three levels are completely unique, individual and painted in the brightest of colors. Standing at 59 cm tall, and 34 cm square in size, it's a little table that packs a huge punch artistically and visually. The table's three levels are interchangeable, so you can choose which order they go in, and / or change the table around when the mood suits. The table pictured is completed and ready to ship, but I would also love to work with you on a totally new piece that fits your personal tastes and requirements. I can work with any type and size of furniture, and totally tailor it to your chosen aesthetic--or, create a fresh new design especially for you. Either way, no two pieces of furniture are ever the same in design, guaranteeing each and every item totally unique and individual. Prices and delivery times vary according to requirements for all specially requested items, but all terms will be agreed upon in advance of order completion, and then strictly adhered to.
Leave a comment
You must register or login
You must be logged in to like or follow. Please register or login to continue.