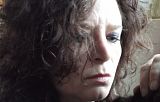 Maryse Lapointe
Montréal, Canada
More artworks by this artist
STYLE
Abstract, Expressionism
J'ai commencé à explorer cette Planète rouge en 2015 un peu par hasard. Je peignais de grandes traces de rouge et d'orange sur papier, sans trop savoir où j'allais, juste pour le plaisir de les faire se fondre entre elles ou de les confronter. Un jour, j'ai échappé du bleu de Prusse dans un coin et, en voulant l'effacer, j'ai créé un sorte de ligne d'horizon et... C'est ainsi que la Planète rouge est apparue dans mon univers... Et cette grande huile sur toile est l'aboutissement de cette exploration. Cette huile n'est pas montée sur son châssis de bois.
Leave a comment
You must register or login
You must be logged in to like or follow. Please register or login to continue.