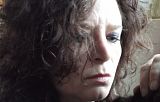 Maryse Lapointe
Montréal, Canada
More artworks by this artist
STYLE
Abstract, Expressionism
Certificate of authenticity
Yes
Ma troisième oeuvre à l'acrylique. J'ai essayé l'acrylique il y a très longtemps mais j'ai toujours préféré l'huile, son onctuosité, sa texture, sa luminosité, sa profondeur. Récemment, il y a eu un énorme dégât d'eau dans mon appartement, le voisin du dessus a oublié de fermer le robinet de sa salle de bain et mon plafond s'est écroulé en pleine nuit sur mon atelier - ça réveille vraiment mal... Mon atelier a été inondé, j'ai perdu quelques huiles sur toile et papier mais j'ai tout de même été chanceuse, c'est principalement l'espace lui-même qui est inutilisable pour plusieurs semaines. Voulant continuer de peindre mais n'osant pas apporter mes tubes d'huile dans le salon - trop risqué de tacher les meubles -, j'ai acheté quelques pots d'acrylique: noir, blanc, ocre et rouge écarlate. Ouf! Quelle différence avec l'huile, principalement le séchage très rapide! Le processus créatif est totalement différent, je ne peux me permettre de prendre le temps d'explorer lentement la matière, l'espace, les jeux de couleurs, le rythme: à peine ai-je étalé une première couche de fond qu'elle est déjà sèche! J'ai mis quelques jours à apprivoiser ce médium et voilà! Black Ice - Glace noire, sur papier. La glace noire est une forme particulière de verglas et le terme est surtout utilisé au Québec dans le contexte de la circulation routière dangereuse. Il décrit la couleur sombre de la chaussée glacée, ce qui la rend difficile à détecter et peut causer des chutes ou des accidents automobiles.
Leave a comment
You must register or login
You must be logged in to like or follow. Please register or login to continue.