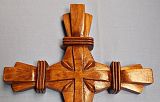 MARIUS MOROSAN
Alba Iulia, Romania
More artworks by this artist
Cross made of basswood , painted oak varnish, intended for wall hanging in a medium size room. It is made by inspiration of enkolpion picture I saw few years ago. Time needed for sculpture 3 weeks.
Leave a comment
You must register or login
You must be logged in to follow. Please register or login to continue.