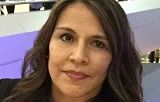 Marisol Sànchez
Lima, Peru
More artworks by this artist
STYLE
Abstract, Contemporary Art
Certificate of authenticity
Yes
This work is inspired the woman, friendship, saint trinity. In the faces of these womans, I want to represent the different types of personality, tastes, character as well as ethnicities. Also i use the triangle as a symbol (I use it in some of my works).
Leave a comment
You must register or login
You must be logged in to like or follow. Please register or login to continue.