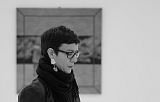 Marija Smilevska
Skopje, Macedonia (FYROM)
More artworks by this artist
Certificate of authenticity
Yes
Painting: Acrylic and Paper on Canvas. Spiritual fear? Hidden and suppressed in the unconscious? Isolation and human weakness? What is man most often consciously and / or unwittingly hiding? It creates a mask as a "simulation" of individuality, hiding its shadow from itself. Do we have a false communication with ourselves? Through mysterious figurative shapes positioned in imaginary ambiences, images call the viewer to communicate with the inner world of lonely figures.
Leave a comment
You must register or login
You must be logged in to like or follow. Please register or login to continue.