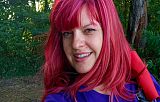 marija colic
Obrenovac, Serbia
More artworks by this artist
STYLE
Abstract, Contemporary Art, Figurative, Minimalism, Modern
Certificate of authenticity
Yes
original artwork is not available, it is sold. I can only sell prints on my Saatchi profile now. This one was chosen for the best 20 on Belgrade Biennial of Watercolor in 2018 and later sold.
Leave a comment
You must register or login
You must be logged in to like or follow. Please register or login to continue.