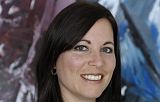 Marie-France Gagné
Sherbrooke, Canada
More artworks by this artist
Cette toile a été créé dans l'attente. Parfois il faut rentabiliser son temps durant l'attente. Attendre après quelqu'un, quelque chose, quelque part, on peut se perdre dans nos pensées.
Leave a comment
You must register or login
You must be logged in to like or follow. Please register or login to continue.