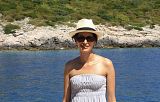 Maria Carolina
Bogotá, Colombia
More artworks by this artist
Certificate of authenticity
Yes
"Fragments" is a series of 5 paintings in oil. It was my thesis project and consisted on a research piece about the absences of memories in children that have been abused or maltreated. I transformed some photographs for newspapers and frame videos with the purpose to explore and throught this process create an image that could mobilise unclear memories from violence. My paintings call into question the numbness with which, today viewers and the mass media are habituated to observe violence and accepting it.
Leave a comment
You must register or login
You must be logged in to like or follow. Please register or login to continue.