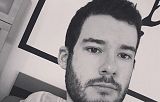 marc iggiotti
Metz, France
More artworks by this person
Certificate of authenticity
Yes
ORIGINAL ARTIST
Marc Iggiotti
Peinture originale représentant des roses, fait avec de la peinture acrylique . Fait a la main signé par moi même MI. *Dimensions:40x50cm *Style: impressionnisme *Couleur: rose *Vendu non encadré *Certificat d'authenticité inclus La peinture est emballée par mes propres soins avec du papier bulle et du carton. N'hésitez pas à me poser des questions. Je reste à votre disposition pour tout renseignements complémentaires.
Leave a comment
You must register or login
You must be logged in to like or follow. Please register or login to continue.