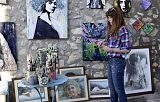 Magdalena Wozniak-Melissourgaki
Heraklion, Greece
More artworks by this artist
This is a picture from my new collection, which is devoted to feminine feelings and moods. Through colors, we can express moods of feeling. Merging palette knife painting techniques and adds a lot of energy!
Leave a comment
You must register or login
You must be logged in to like or follow. Please register or login to continue.