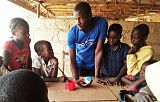 More artworks by this artist
"My Pains" has been in my mind for a long time. I didn't want to add the tears, because the expression itself shows hardship and violence. A woman's rights being violated. A woman is a helper to a man, so I see no reason why she should be treated so rough, like a rag used in mopping floors. When we're talking about women's' rights being violated, we're not just talking. It's something I have seen a lot in my area. It pains me. A woman as a mother is someone who sacrificed 9 months, put up with stress and struggle, to give birth to a child that is given the man's name. The child is not hers, but belongs to her husband. Yet the man has no respect for her. Or in cases of early pregnancy, and the guy isn't willing to take responsibility. Then the girl has to take care of herself and the child. Sometimes she has to drop out of school. Sometimes her parents kick her out of the house. "My Pains" talks about all of this. It's about how I feel a woman should be treated.
Leave a comment
You must register or login
You must be logged in to like or follow. Please register or login to continue.