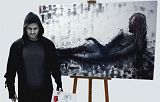 Lubosh Valenta
Prague, Czechia
More artworks by this artist
STYLE
Abstract, Contemporary Art, Figurative
Certificate of authenticity
Yes
Original oil painting on stretched canvas. Sídes are painted and a hook on the back so, ready to hang and no need to be framed. Certificate of Authenticity. Signed on the front side.
Leave a comment
You must register or login
You must be logged in to like or follow. Please register or login to continue.