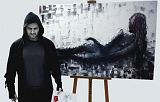 Lubosh Valenta
Prague, Czechia
More artworks by this artist
STYLE
Impressionism, Modern
Certificate of authenticity
Yes
Original hand oil painting by palette knife. Sides are painted and the artwork has a hook on the back so, ready to hang and no need to be framed. Certificate of Authenticity. If you have any questions, please, don´t hesitate to contact me. He ran through the forest, moss and needles full of life. He ran on a rocky road dotted with leaves and a darkened landscape. Above his head clouds hammering to the ground, formed into cool drops. He was wearing a sweater, and solid, beaten boots on his feet, which gave him so much safety on a prickly surface. He was looking for the warmth of our closest star. And here, a meadow full of flowers. He get finally his destination. Birds in the sky zigzagging between rays and hunting stray insects. He rolled to the ground. He pulled off his wet sweater, took off his gripping boots. For a moment he breathed deeply, sensing freedom, beauty and warmth. Every part of his body trembled with the excitement of happiness. He jumped up and ran again up the blooming hillside, disappearing down there, somewhere by the bluish river. But those shoes ... he forgot them now. Only curious butterflies are interested in them ... They're sorry, but maybe they are so much better like this...
Leave a comment
You must register or login
You must be logged in to like or follow. Please register or login to continue.