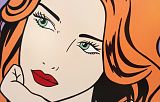 Laurence masson
Lyon, France
In Gallery
More artworks by this artist
Certificate of authenticity
No
Œuvre originale (2020). Production manuelle artisanale. Technique : Peinture acrylique +vernis. Support : Panneau synthétique recyclé, solide et souple, grand format : 120x100 cm. Série " COMICS PORTRAITS". Inspirations 50's, 60's, 70's.
Leave a comment
You must register or login
You must be logged in to like or follow. Please register or login to continue.