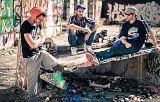 Lio Settini
Aix-en-Provence, France
More artworks by this artist
Certificate of authenticity
Yes
Always on « Tee » Time 1mx1m Canvas // mat black & shinny black 3D laser cut plexiglass L'horlogerie et les golfeurs partagent en effet une même passion pour l'excellence et les performances de haut niveau.
Leave a comment
You must register or login
You must be logged in to like or follow. Please register or login to continue.