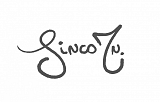 Linco7n Magalhaes
São Paulo, Brazil
More artworks by this artist
Certificate of authenticity
Yes
Gray morning. "An unique and exclusive language that must enter to Art History." A totally abstract and unique representation. Also I would like to say many thanks to all the people who like and believe in Art. Especially to my collectors, without you I am nothing. Linco7n. (2019), 'Gray Morning'. Estimate: $55.000,00 - 65.000,00. ART UNTIL THE END. Linco7n.
Leave a comment
You must register or login
You must be logged in to like or follow. Please register or login to continue.