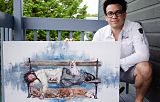 Lesly Farran
Sainte-Agathe-des-Monts, Canada
More artworks by this artist
MEDIUM
Acrylic, Gouache, Mixed media, Pastel, Watercolor
From Africa to Cuba 40 x 26 En raison de notre sombre histoire de la traite des esclaves, le rôle de Cuba comme port international pour la colonisation des Amériques par les Européens et la diversité de sa population, Cuba a développé une riche histoire musicale à côté de son sombre passé politique. De la salsa à la contradanza, de la rumba à la conga, les genres qui ont émergé de Cuba depuis sa découverteont contribué à façonner la musique latine dans son ensemble, donnant de la crédibilité et de la variété à la scène musicale nationale et mondiale.
Leave a comment
You must register or login
You must be logged in to like or follow. Please register or login to continue.